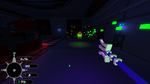 A
mini-boss
found on floors 1-7.
Description
Edit
Acht is a giant yellow and black spider with red eyes that will shoot green bullets and chase the player.
Shoot the spider while trying not to get hit. Circling should do the trick. Also, be careful with the jimbaabwehs that spawn.
Acht, possibly, appears to resemble a Tarantula, although this is just speculation.
Acht is the German word for the number eight, most likely referring to its eight spider legs.