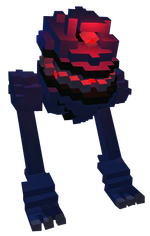 A
standard mob
found on floors 1-7.
Description
Edit
Baahmbas are introduced to the player on floor 1. These enemies will jump towards the player and explode. Additionally, when they are killed they will still explode.
The general strategy for these enemies should be to keep a distance. However, with enough speed it is possible to get close enough to a Baahmba and have it explode and get away without taking damage.
Since patch 1.4 Baahmbas cannot jump on lava and therefore remain in place.
Ad blocker interference detected!
Wikia is a free-to-use site that makes money from advertising. We have a modified experience for viewers using ad blockers

Wikia is not accessible if you've made further modifications. Remove the custom ad blocker rule(s) and the page will load as expected.