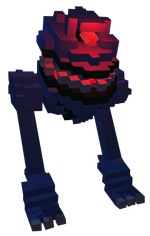 A standard mob found on floors 1-7.
Description
Edit
Baahmbas are introduced to the player on floor 1. These enemies will jump towards the player and explode. Additionally, when they are killed they will still explode.
The general strategy for these enemies should be to keep a distance. However, with enough speed it is possible to get close enough to a Baahmba and have it explode and get away without taking damage.
Acquiring a Blast Shield will protect you from the explosions of Baambas, thus making them harmless enemies for the rest of the run. The same mechanic works with Rocket Turtles as well.
Since patch 1.4 Baahmbas cannot jump on lava and therefore remain in place.