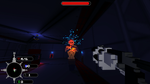 A boss found on floors 5-6.
Description
Edit
The Banshee is an enemy not dissimilar to a genie, although his intentions are to kill you, rather than grant you three wishes. His main form of attack is sending out a stream of homing shots from his hands, and will chase you around the room until defeated.
Before Dahlia was introduced, Banshee was the final boss of the game.
If you land on the Banshees head, it will be almost unable to hit you with any of its attacks. However getting off its head can be difficult
Ad blocker interference detected!
Wikia is a free-to-use site that makes money from advertising. We have a modified experience for viewers using ad blockers

Wikia is not accessible if you've made further modifications. Remove the custom ad blocker rule(s) and the page will load as expected.