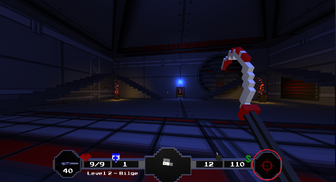 Power Ups are bonus items that give you increased capabilities throughout the game. One may be held at a single time and it will be shown on the bottom right corner of the screen. They can be found after completing a room or killing enemies and used by pressing Q.
Various Power Ups
Edit
These are power ups that can be found while playing the game.
| | | |
| --- | --- | --- |
| Ankh | Invincibility for 15 seconds. | |
| Assault | Increases your fire rate for 15 seconds. | |
| Battery | Completely refills all secondary weapon ammo. | |
| Dice | Changes (ie. rerolls) the shop's items | |
|   Heart of Gold | Fully restores all hearts. | |
| Hot Foot | Allows you to walk on lava or acid for 30 seconds without taking damage. | |
| Golden Scissors | Cuts the price of items in shop by half. Can be stacked multiple times. | |
| Runner | Greatly increases speed for 30 seconds. | |
| SlowMo | Slows all movement in game including your movement, pickup speed, enemy movement and speed of projectiles for 15 seconds. | |
Pages in category "Power Ups"
This category contains only the following page.
Ad blocker interference detected!
Wikia is a free-to-use site that makes money from advertising. We have a modified experience for viewers using ad blockers

Wikia is not accessible if you've made further modifications. Remove the custom ad blocker rule(s) and the page will load as expected.