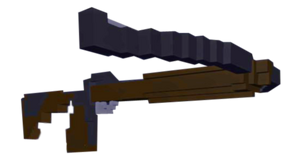 It seems to shoot pointy things.
Description
Edit
The Crossbow is a fairly common starting weapon. To use it the player must charge each shot by holding down the fire button. The longer the player holds the button the further the shot will go. The weapon also seems that it does more damage the more that it is charged. It is also important to note that the projectiles fly through the air and therefore are affected by gravity. Be sure to aim a bit high on those long range shots.
Sometimes glitches and won't shoot anymore. Solved by pressing Escape followed by Resume game. (1.4.5)
Ad blocker interference detected!
Wikia is a free-to-use site that makes money from advertising. We have a modified experience for viewers using ad blockers

Wikia is not accessible if you've made further modifications. Remove the custom ad blocker rule(s) and the page will load as expected.