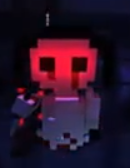 The final boss found on floor 7.
Description
Edit
Dahlia is a small child and last boss of the game. She will stay immobile in the middle of the room and fire off purple orbs in random directions. She will first spawn two Skullitos, then three sets of Iris and Aerie, then a Big B and some Die Namenlos, and finally a wave of Skortches. This cycle will continue until Dahlia is defeated. 
Destroy the Enemies she spawns first if they give you trouble, then attack her in between waves. If you have bombs or have the Grenade launcher/Rocket Launcher you can attack both Dahlia and the Enemies spawned at the same time.
Ad blocker interference detected!
Wikia is a free-to-use site that makes money from advertising. We have a modified experience for viewers using ad blockers

Wikia is not accessible if you've made further modifications. Remove the custom ad blocker rule(s) and the page will load as expected.