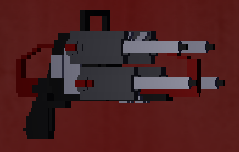 Not your average flak cannon.
Description
Edit
The Flak Cannon is the starting weapon of The Bouncer that shoots four laser projectiles that bounces on walls and props. The laser projectiles still bounce with or without the Flipper Item and has a base damage of 10 (projectiles dealing 2.5 each).
The Flak Cannon can be found in Gift Shops and and Armory rooms.