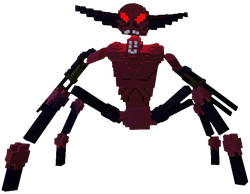 A
mini-boss
found on floors 1-7.
Description
Edit
Khan is a demon-like monster with four legs. He attacks by firing normal shots and homing shots from his hands.
khan spawns with a gilead and a lecter on oposite sides of the room, deal with them first and then focus khan.
khan will shoot a barrage of guided missiles from time to time so you should stick to the walls.
it is advised to have long range weapons since weapons like the trident and the sickle might expose you to getting hit easily