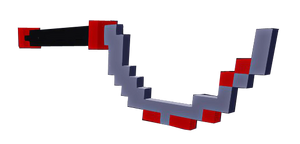 A brilliant farming tool and deadly weapon
Description
Edit
The Sickle is a boomerang styled weapon. When thrown by the player it will travel a distance, hesitate for a moment and then travel back to the player. The weapon has a decent amount of damage but needs to be charged in order to be thrown. It should be noted that the player can use the Sickle as a melee weapon. Additionally, the weapon is effected by Spinach (increased travel distance) and has no interactions with the Magnet.
The Sickle was added in patch 1.4.
Ad blocker interference detected!
Wikia is a free-to-use site that makes money from advertising. We have a modified experience for viewers using ad blockers

Wikia is not accessible if you've made further modifications. Remove the custom ad blocker rule(s) and the page will load as expected.